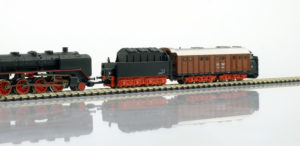 A brief look under the hood of Marklin's "Rotary Snowplow" in z scale reveals engineering that is both functional and well conceived.
Two worm gears meet up at 90 degrees to turn the cutting wheel that is powered by the 5 pole motor. A heavy metal frame is the foundation for the motor which receives its power directly from the rails without the need of a circuit board, the motor leads are soldered to wires leading to trucks: one wire to each truck soldered to a power pick-ups in the form of spring copper. A unique solution that I haven't seen in any other mini-club train except for the 3 Rotary Snowplow sets. The overall weight of the snowplow is equal to a locomotive thereby giving it good traction.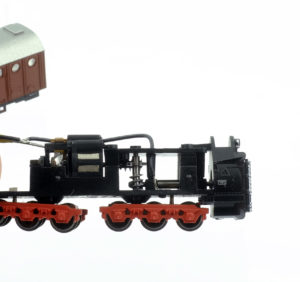 To access the interior of the snowplow simply lift off shell, it slides on snugly without clips, I recommend working front and back gently until it lifts off thus allowing the brushes to be replaced: part number 89891.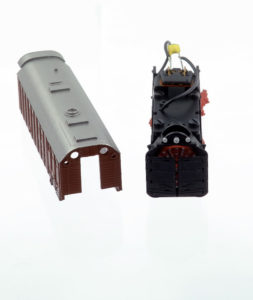 More than 8 1/2 inches in length the mini-club Rotary Snowplow is an impressive machine.
Take a look at part two of the post featuring customization of the loco and repair notes.
Good Luck and Have Fun!