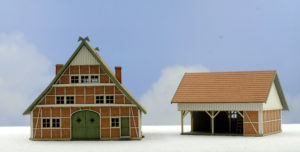 The other day I announced on this blog the new releases of Archistories, and there are many! Now the world of Z has some excellent buildings for urban and rural by this manufacturer and others, but modern suburban buildings are not covered as yet in laser cut. The Prussian style of architecture is a primary concern for Archistories with many very interesting building types represented with some equipped with motors that turn water wheels and windmills. All Archistories buildings making lighting a joy with predrilled holes in the base and partition walls, but the material nature of laser cut is opaque and won't glow as does plastic when it is lit.
This farmhouse represents framework construction of the Westphalia region of Germany. Brick is used to fill in between the timbers sometimes the bricks are white washed with the prototype or simply stuccoed, they come in many variations and framework designs in Germany are rather unique seemingly organic constructions with personalities of their own. The wild variety of timber placement in this type of construction sometimes appears planned following some measure of symmetry and other times asymmetrical owing to unique and non duplicated forms. Framework construction with exposed timbers is seen alone and other times combined with sheathing along the roof trusses, brick and stone also make appearances not exclusive to foundation walls. The durable construction technique is also facilitated with strong foundations and steep pitched roofs of slate, terracotta or thatch.
The build of this kit is fun and enjoyable, the finished result is the best thus far in Z for a farmhouse. Some aging maybe desired depending on the era being modeled. The prototype for this example I would guess is mid 19th century to early 20th century when steam ruled and before German reclassification.
ZScaleMonster.com and ZScaleHobo.com are the dealers for Archistories in the United States, both are excellent and reliable sources for this and many more Z scale products.